Ruth Hyde Paine - family and friend ties to the CIA. Educated at prestigious Swarthmore College. Very articulate and intelligent. Became a Quaker (perfect cover). Fluent in Russian (convenient). Became a house wife. Her tax returns, and her husband's, are classified. When working for international development projects, such as Pro-Nica(ragua), she took notes and photos as agents would. She was introduced to Marina Oswald by George De Mohrenschildt (Lee Harvey Oswald's rich handler, who committed "suicide" before being called to testify) and let her move in her house, converting her garage into an apartment. She found LHO his job in Texas School Book Depository. Ruth's sister was a staff psychologist for the CIA (both sisters are analysts). Ruth's father "gathered intelligence for the CIA" (The Confessions of Ruth Paine by Steve Jones). Police found numerous index cards about pro-Castro sympathizers in her home. (Just a hobby?) She was instrumental in getting out the "official story" of Lee's psychological profile, and presenting him as hostile, for example in her 1963 interview and 2003 interview. Ruth claims Lee did not want Marina to learn Russian (not true). Lee called her twice to get a lawyer for him, but she "tried" and failed to do so. (What is so hard about calling an attorney?) Numerous "coincidences".

Ruth, a children's school psychologist, responds with nervous laughter when
Atty. Gerry Spence
asks if she ever
worked for the CIA
in the 1986 Lee H.
Oswald Hearings.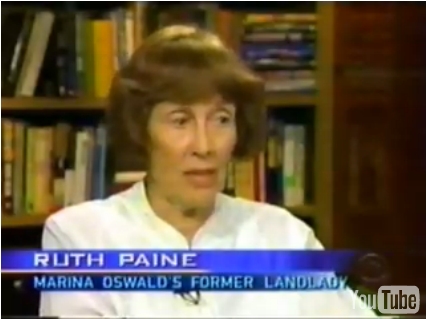 http://www.spartacus.schoolnet.co.uk/JFKpaine.htm
http://assassinationscience.com/mrspaine.html
?